When this pandemic commenced, most of us hoped that summer could be described as Post-COVID. Depending on your location and your incidence rates, however, you are likely still working from home and immersed in programs to protect all employees, especially those who are customer-facing.
In response to your requests for more idea sharing, we are continuing our series on what members of the Unstoppable Cultures Fellowship community are implementing to keep their organizations safe, engaged, and moving forward during the pandemic. Continue to let us hear from you so we can provide programming that will inspire you to both maintain and build the culture you always desired.
• • • • •
Rea Foster
Chief Operating Officer, Teach For America DFW
Headquarters: Dallas, Texas
Concept: Infusing joy and optimism in a virtual environment.
"I am most proud of how our team has infused an even higher level of joy and optimism in a virtual environment to maintain a positive workplace culture.
Examples include:
Sending all of our staff members a surprise snack box within the first four days of stay-at-home orders.
Surprising 400 teachers across the Dallas-Fort Worth region with teacher appreciation boxes during Teacher Appreciation Week.
Hosting top-notch staff virtual celebrations, including virtual karaoke, a virtual watercolor painting class, and virtual mixology class with a local bartender instructor and ingredients delivered in advance.
Through these, we've been able to maintain a sense of surprise and delight in an exceptional way!"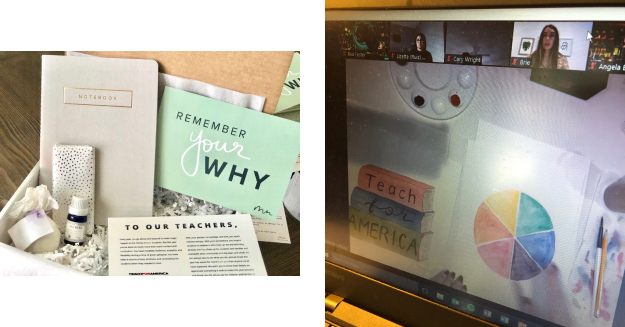 Surprise deliveries and virtual connections inspire Teach for America.
• • • • •
Deb Laudano
Corporate Ambassador of Engagement and Culture, Maplewood Senior Living
Headquarters: Westport, Connecticut
Concept: Involve family members in educational hand washing project.
"Our associates at Maplewood Senior Living are doing an amazing job – truly giving extraordinary love, care and support to our residents during this extraordinary time … however, the stress of this pandemic has been extremely draining on all of our folks. As part of our culture, we do fun activities for and with the associates each month to help keep good vibes going so we have increased those activities. That said, we have not been able to physically gather for team-building type activities so we needed to find other creative ways to form pockets of engagement, express appreciation, and build on our values with our 1500+ associates working across three states. Here are a couple of the company–wide initiatives created to help bring folks together.
At the onset of the pandemic, we initiated a hand-washing poster contest open to all associates and their family members – the only guideline was that the poster must include "We are all in this together! Wash often!" Amazon Gift cards and bragging rights were the prizes.
My colleague and I created a video as a surprise to all of the associates inclusive of a message from our CEO, thank yous from leadership and photos of some of the fun activities that the staff across the company were doing to help keep the residents and one another engaged.
Presently, we are accepting nominations from across the organization for songs to add to a special Maplewood Senior Living playlist. It's been a great way to connect and everyone loves giving their suggestions!"
Maplewood Senior Living turned to all 1500 associates for this hand-washing campaign.
• • • • •
Guy Hocking
Managing Director, Utilize Plc
Headquarters: Basildon, Essex, Essex
Concept: Using data to drive decisions resulted in 98% leadership approval rating.
"Since my trip to Santa Fe for the Unstoppable Cultures Fellowship, I have developed our PeopleFirst initiative to be the focal point of driving our culture forwards. More details on that in another update, but fair to say the culture that is living and breathing in our business two years on is staggering to see and, perhaps most remarkably, has set us apart during these unprecedented times.
As we know by now, Culture starts at the top. As a leadership team we asked ourselves: what would an employee want to be hearing and seeing from the leadership team? We quickly put in place a rigorous communications plan. We set out our values at the forefront – communicating regularly with transparency and clarity. Transparency basically meant we were honest with staff from the beginning, about everything. When we didn't have an answer, we said so. And when we did know, we gave staff a no BS version of what we were doing and why, however difficult the messaging may have been.
Clarity came down to the data. We needed accurate data (in the early stages, financial data) to make the decisions. Having our finger on the pulse and access to this data allowed us to put initiatives in place to help staff: mental well-being workshops; virtual PT sessions; technology to work on fundraising projects for clients; and topping up salaries for staff we had to furlough but wanted to retain. The shareholders took a pay cut to implement some of these measures and to prevent the company from making further cuts. We then communicated all of these elements to staff during our weekly company town halls and a series of videos from me. Most importantly we involved employees in the process.
These simple things alone helped the company and leadership team receive 98/100 in the handling of the COVID crisis and the faith in the leadership team to see us through to the other side. These scores came from a Pulse survey conducted recently in which 78% of the business engaged."
Utilize Plc was focused on keeping engagement high.
• • • • •
Matthew Hall
SVP, Culture Development Director, Huntington National Bank
Headquarters: Columbus, Ohio
Concept: Using survey data to develop "return to work" guide that is updated weekly.
"I think first and foremost we leveraged our purpose — making people's lives better, helping businesses thrive, and strengthening the communities we serve — to lead our strategies and decision-making. Our focus for our colleagues has been around their safety and well-being, and we have made sure that we are listening to their concerns through the pandemic. This included a COVID-19 pulse survey in April. Most recently we have created a "Coming Back Together" guide. This 20+ page guide (updated weekly) answers all questions colleagues might have as we start to slowly return to our offices. Lastly, to see our colleagues rally around the Payment Protection Program and literally work day, night and weekends to meet the needs of our business customers was amazing. We had over 2,000 colleagues from across our company step up to support the program in order to save customer businesses, and jobs."
• • • • •
Ann Hiedeman
Vice President of Human Resources & Workplace Equity, Minnesota State University Moorhead
Headquarters: Moorhead, Minnesota
Concept: Living your core values in times of crisis and turning to communication as a commitment to people.
"We are proud that Minnesota State University Moorhead (MSUM) has been, according to our University President Anne Blackhurst, able to "be excellent" in this new environment. She is proud that people have been empowered to lead and move forward without "permission" or waiting for someone to direct every step.
At MSUM, our core values are Grit (we are scrappy and resourceful), Humility (we believe the best ideas can come from anyone; we don't take ourselves too seriously); and Heart (we go the extra mile for each other).
The words that describe moving our students from an on campus experience to an online experience – and also moving close to 600 employees to telework – patience over panic, grace, adaptability, problem solving, solution focused, creativity, innovation…
Named after our school's mascot, we implemented a Dragon Buddies and Dragon Family Matters program where people could offer to be a Dragon Buddy to anyone who needed assistance during our stay at home order – picking up groceries, helping in some other way, and then just calling and checking in. With so much loneliness for people who live alone, we also had a mechanism in place for people to discreetly request help.
We formed a noon Zoom meeting that we call our "Brown Bag" Q&A. I facilitate the call and we have updates from various offices like IT, HR, Business Services, Health & Safety. But we have a fellowship time as well – sharing a recipe or a funny story. We see pets and kids and crazy Zoom backgrounds. It's been a great time and has turned into both the highlight of my days and a valuable resource. I love what one of the employees said that our commitment to communication is really a commitment to our people. We have "over communicated" because we care about them so much!"
The university leaned on its core values to drive it's COVID response.
• • • • •
Tom Wiley
Executive Chairman, Wiley Construction
Headquarters: Brisbane, Queensland
Concept: Embracing collaboration tools to push connection and culture.
"I have been profoundly impressed by our team's response at Wiley; it speaks volumes to our culture. Everyone who is office-based quickly embraced working from home. We rolled out daily 30 minute town halls we call P.O.W. WOWs. We embraced the Rockefeller Habit Huddles from Verne Harnish's book, resulting in every one of us being closer than ever before. We have daily operational themes for our town halls and weekly fun themes to keep things interesting: from pets, to legos, to music, to cooking. To increase engagement, we instituted various photo competitions like your working at home setup and how you are managing keeping your distance. Friday afternoon pilates sessions and social calls on our collaboration platform round out our weeks. The team has embraced digital collaboration on a new level with lots of training and a rapid evolution of some of our processes. I believe the benefits we take away from this crisis will serve our company culture brilliantly into the future."
Wiley Construction pushed collaboration tools to connect employees working from home.
• • • • •
---
Together, we truly can build Unstoppable Cultures!
Sincerely,